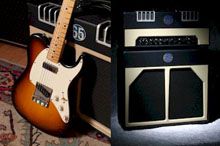 ID3 produces a number of custom guitar amp nameplates as well as speaker plates, nameplates for drums, music equipment nameplates and musical instrument cases. If your product plays, carries or has anything to do with music - then you should be a customer of ID3. Steve Begor spent 10 years in the music business and still today, he is know as a music junkie. Maybe that is why ID3 likes to make nameplates for people who like to make products that make music. We call this the music connection.
If you care about good sound and how your brand is conveyed, then you should care about having a good nameplates to advertise your products logo with. Today, there are a number of boutique guitar amps being made in the U.S.. These amps mainly feature tubes, however they all feature a quality of sound unrivaled by the amps made in Asia. ID3 is proud to be a part of this guitar amp industry by providing custom nameplates for amps for a number of clients. If you build an American made guitar amp, don't you want an American made Nameplate?
ID3 nameplates are available in a variety of materials types which include plastic and various types including of metal such as chrome, zinc and more. Most importantly these custom music and amp nameplates are produced by a company that knows music.
If you need a custom amp nameplate for your brand, then contact us today!